According to Sawyer Merritt and Teslascope Tesla is in active development of an app store for its vehicles. The app store is rumored to be released before the first Cybertrucks are delivered.
Concept designer DeleetDesigns has even designed what a Tesla app store could look like.
Having a Tesla app store is certainly an interesting concept, and I certainly believe Tesla is working on one, but it may not be what you think it is.
The concept by DeleetDesigns is well-executed and it brings some interesting ideas to the table like letting you charge items to your Tesla account.
However, it leads us to believe that a Tesla app store will be similar to Apple's or Google's versions.
I'm not sure apps like Burger King, Slack, Twitter, and others are great candidates for the Tesla app store.
There are only about 2 million Teslas. While it's certainly impressive what Tesla has been able to accomplish, that's only about 0.0016% of all the active iPhones in the world. What this means is that developers wouldn't put as much money and time into their Tesla app versions. And after they're developed, they'll quickly fall behind their smartphone counterparts.
Tesla could avoid this issue by letting users run Android apps, similar to how you could run Andorid apps on some Chromebooks, but most of these apps don't scale well to larger screens, especially a 15 or 17-inch screen.
It'll always be easier to scroll through something like Twitter on your phone than it is on a screen that's an arm's length away from you. It's also more convenient to type on a phone than it is to peck at an on-screen keyboard.
What We Think the Tesla App Store Will Be
We know that Tesla is working on an app store, and here's what we think it'll be like.
Instead of being an app store similar to Apple's that allows developers to make any kind of app, we think Tesla will be limiting the apps to the ones that are well suited for use in a car.
It's expensive to create the framework required to create an app store, especially one that allows apps to be as versatile as phone apps are today. Why should Tesla go through all that work for developers to create apps that few people will use?
How often do you find yourself wanting to use your TV instead of your smartphone? Even for some video apps like TikTok, it doesn't make a lot of sense. It's just easier to swipe on your phone.
Many set-top boxes can run all sorts of apps, but most people don't want to shop on Amazon or browser Facebook on their TV.
Instead, they want to use their TV for apps that can provide an experience their phone isn't able to. Apps that allow them to stream video on a larger screen, like Netflix, or exercise with apps like Peloton or Apple Fitness+, or maybe even share a slideshow for the family. What we're not doing is responding to emails or Slack messages on the TV, or even looking at stock quotes. That kind of stuff is much more suited for a phone.
Although Tesla has one of the best infotainment systems of any vehicle, it can't compete with a device that you upgrade every few years. A device that has a faster connection, higher resolution screen, more storage, easier payment authentication, and a faster processor.
A Tesla app will be successful when you can leverage the benefits a Tesla can provide over your phone; a bigger screen and integration with your Tesla.
Tesla won't bother creating APIs for developers to build apps that aren't well suited for a Tesla.
Instead, Tesla will focus their efforts on building developer tools that will allow anyone to create apps that will excel in a Tesla. These apps will be for things such as SiriusXM and Apple Music. It could be video streaming apps like YouTube TV and Amazon Prime Video.
These apps will integrate seamlessly into your Tesla UI, just like DeleetDesigns illustrates in his concept.
What if Tesla had an app store? I put together this prototype to see what it might be like. What apps would you want to see?

cc/ @tesla @elonmusk @Teslarati @ElectrekCo @InsideEVs pic.twitter.com/gPCD05JIvO

— CHROME DELEET (@deleetdesign) February 16, 2022
The Tesla app store would let developers port additional games to Teslas as well, giving owners even more gaming options.
Creating an app store will be a huge win for Tesla. There are a lot of entertainment options out there and Tesla can't keep up with all the latest streaming services.
By creating an app store and APIs for developers, Tesla can offload the development of these apps to other companies. It'll allow companies like Apple to create Apple Music for your Tesla, it'll allow SiriusXM can create a streaming SiriusXM app. This will free up Tesla's engineers' time and give owners the apps they're looking for.
Most Teslas have relatively small hard drives, so they're not capable of storing apps endless amounts of video streaming apps and games. By creating an app store, users could install only the apps and games that are relevant to them. This will help free up space taken up games or apps the owner may not use today.
To run apps similar to our smartphones and tablets, Teslas would require a more capable processor than the one used in most Teslas. It'd likely only be available for Teslas with MCU 3, which would exclude almost all Teslas manufactured so far.
However, if the app store was limited to games, video, and audio streaming apps, then it could be available for MCU 2 vehicles as well.
All of the video streaming apps in Teslas today are just full-screen versions of the app's website. Having developers create native experiences for Netflix, YouTube and others would make these apps much more responsive than they are today.
We know that Tesla is creating an app store that will likely be released in the coming year. The app store will benefit Tesla and Tesla owners alike, but we may have to alter our expectations of what a Tesla app store will be.
We're Hiring!
We're looking for a freelance writer who loves Tesla as much as we do. If that's you, we'd love to hear from you! Find out more.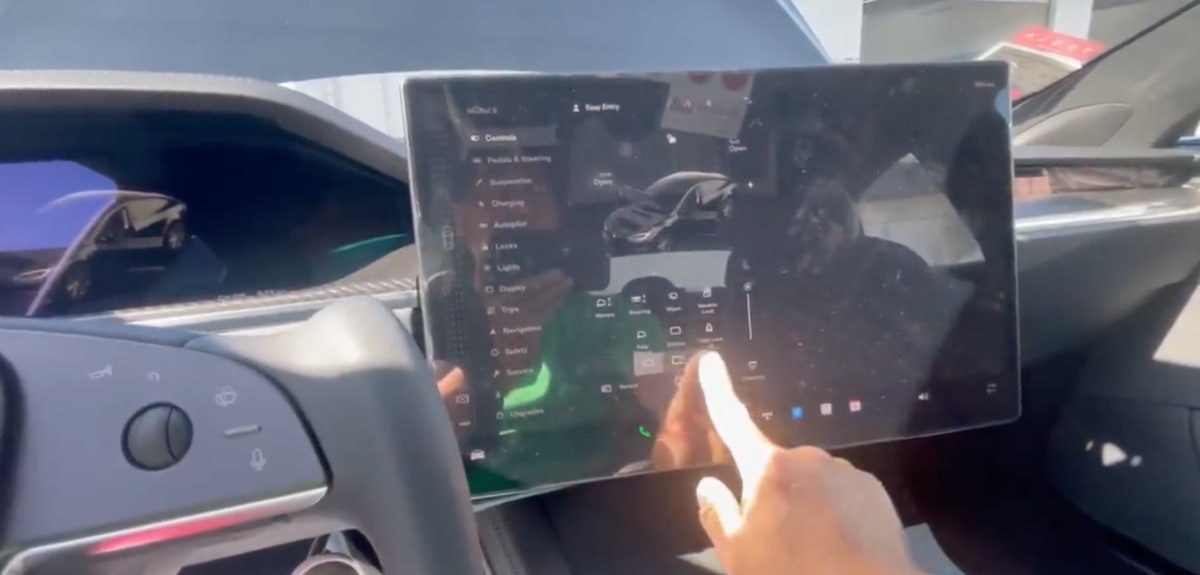 When the new Model S was shown off back in 2021 it was said to come with a tiltable 17″ center screen.
Although the hardware required to tilt the display is supposedly available in all refreshed Model S and Model X models, the displays are currently fixed.
There's currently no way to tilt the display, manually or automatically. However, it looks like Tesla is now testing an update that activates the servos that tilts the large center display.
Twitter user @TeslaFrunk has just published a video showing the displaying tilting from left, to center and then to the right.
It looks like the display swivel will be done by the push of a new button added to the Controls menu.
The new button appears to be called "Display" and it replaces the Glovebox button. Upon pressing the button, you're presented with three options, left, center or right.
Tapping on the desired direction will cause the display to slowly move to the desired position. This doesn't appear like something you'd change just to use the screen for a moment, but instead more of a personal preference.
The glovebox button appears to have moved to the bottom right corner where Neutral used to be, and Neutral has been moved to the bottom of the Auto Shift column that allows you to shift your vehicle into Drive, Reverse or Park.
There's no word on what software version this vehicle is running, but it's likely an early access build or internal only software.
Tesla finally added screen swivel to the refreshed model s pic.twitter.com/JeldBrRTXw

— Larry Li (@TeslaFrunk) May 3, 2022
Some drivers like to have the display in the center, giving equal access to the driver and passenger, while others would prefer for it to face the driver.
This is a welcomed option that gives owners more flexability in how to use their cars.
It'd be nice if Tesla also offered an option to automatically tilt the display toward the driver if there was only one person in the vehicle or keep it in the center if there is someone in the passenger's seat.
Software update 2022.16 is just around the corner. Will this be included in it? We should find out soon.
We're Hiring!
We're looking for a freelance writer who loves Tesla as much as we do. If that's you, we'd love to hear from you! Find out more.

Tesla hacker and Twitter user @greentheonly has speculated that it won't be possible to retrofit current MCU 2 (Media Control Unit) Teslas employing Intel chips with the new and improved Ryzen-based processor that is used in MCU 3.
In an up-close inspection of a new Model Y's internals Green stated that "retrofit for intel cars definitely looks impossible – totally different power and other harness and thickness of the unit."
The news hasn't been confirmed nor denied by Tesla or its CEO, Elon Musk, but if proven to be accurate it would most certainly disappoint a great number of MCU2 vehicles owners, who were expecting to be offered the possibility of an upgrade, in the same way current MCU1 owners are able to upgrade their chips for a $2,000 (plus tax) fee.
MCU (Media Control Unit) is the computer controlling Tesla's touchscreen, processors, RAM (short term memory), non-volatile memory (long-term memory), the audio subsystem, 5 amplifiers, WiFi, Cellular, Bluetooth, GPS, the Ethernet bridge, multiple CAN bus communications, the LIN bus, USB ports and many more.
It handles every software operation, excluding Full Self-Driving/Autopilot, which are unaffected by which MCU version a Tesla is equipped with. All Tesla's built after November 2016 are capable of Full Self-Driving.
MCU2 came out in the spring of 2018 (fall of 2017 for Model 3) as an upgrade to the NVIDIA's Tegra 3 processor found in MCU1. All cars delivered after that point benefited from the improved responsiveness and extra features that came with the Intel's Atom E8000 Series CPU.
From a technical standpoint, the two chips possessed entirely different architectures. The release of software update V10 highlighted the differences, as MCU1 owners were excluded from both Tesla Theater and Tesla Arcade. Effectively, MCU1 doesn't support Netflix, Hulu, YouTube, or any other streaming services that may be added in the future. It also doesn't support any of the games Tesla added. Additionally, the web browser on MCU2 is much quicker and more capable as it's built on Google's Chromium platform.
In summer of 2021 Tesla released the redesigned Model S with a more powerful infotainment processor MCU. At the time no one was sure whether this was Tesla's next generation MCU or whether it would trickle down to other models.
Then in late 2021 the first news of a new Tesla MCU chip generation started to flood the web, with reports coming from China of a new AMD Ryzen-based computer being present in newly delivered Model Y's.
The new MCU is faster and brings noticeable improvements in responsiveness in the web browser, as well as while using video streaming services, such as Netflix and YouTube.
We're Hiring!
We're looking for a freelance writer who loves Tesla as much as we do. If that's you, we'd love to hear from you! Find out more.
.