---
DDuring his excursions to northeastern Montana, Rigby was often joined by Notre Dame students and adult volunteers, usually under the auspices of Earthwatch, a group based in Watertown, Massachusetts, that matches amateur scientists with projects conducted by researchers in a variety of fields including paleontology who need both financing and labor.
Rigby had received support from Earthwatch since 1988, with some 420 volunteers having joined him in the desert badlands near Fort Peck. After finding a large area with the bones of a hadrosaur in the summer of 1996, Rigby and his team returned a year later to dig deeper. (In the interest of safety, security and science, the US Army Corps of Engineers, which now manages the area, asked that the exact location of Rigby's fieldwork be kept confidential.)
Among the volunteer team members was Louis Tremblay, a 56-year-old earth sciences teacher at Avon High School near Hartford, Connecticut, who had volunteered with Rigby since 1991. Tremblay was enrolled in an advanced degree program at Southern Connecticut State University, which required working on a field project or in a lab to gain hands-on experience to enhance the teaching of high school science.
"I was an earth science teacher, and so I had a background in geology and the Earth's history," Tremblay said in a phone interview earlier this year. "At that time, there was a lot of interest in the various theories about what caused the dinosaurs to become extinct, and that was one of the things that Dr. Rigby was working on. He sent a letter inviting me and other past participants to join him (in the summer of 1997). That's how the group of us ended up being there."
Dr. Rigby had taught me back in 1991 how to find dinosaur bones, (but) I had no idea what it was. I was just fortunate that I happened to be the one to come across it."—Lou Tremblay
While some team members excavated the hadrosaur, Rigby asked Tremblay and several others to hunt on a nearby hillside near where that single primrose and deer antlers were spotted in early June. It was July 4, and, after initially seeing a few bone chips, Tremblay remembers, "I found a bone that was actually protruding from the ground. I brushed away some of the soil from it, and that turned out to be the first bone that was actually part of Peck's Rex. The bone itself, I believe, was later identified to be one of the stomach ribs."
Despite his previous experience, Tremblay said he didn't know at the time exactly what he had come upon. He took a picture of the protruding bone and showed it to Rigby.
"I was pretty excited," he said. Dr. Rigby had taught me back in 1991 how to find dinosaur bones, (but) I had no idea what it was. I was just fortunate that I happened to be the one to come across it."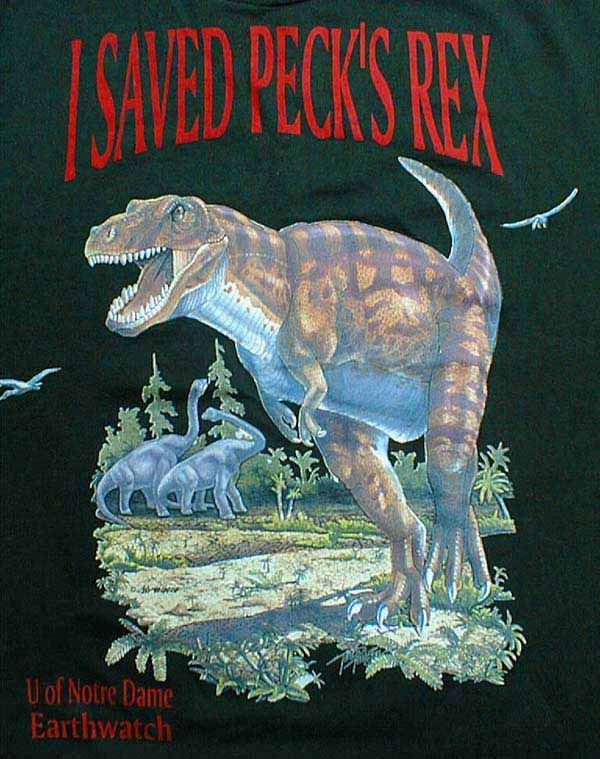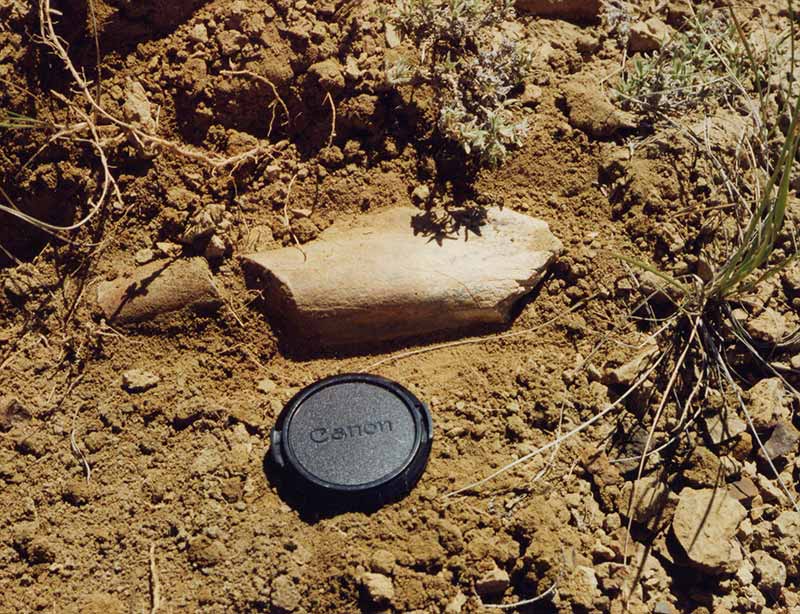 After Tremblay's time that summer in Montana ended, other volunteers joined Rigby for the rest of July and into August, finding more bones — including the skull — and realizing that Lou Tremblay's fortunate find on the fourth of July was, in fact, a major discovery . When it came time for Rigby to return for the fall semester at Notre Dame, he closed up the site for the long winter by putting protective plaster jackets around the exposed bones, reburying them and back-filling the dig. His plan was to return the following summer to complete the excavation.
A part of the plan was hiring members of the Walton family, described in one media account as down-on-their-luck ranchers in the area and people Rigby had known for years, to keep an eye out for anyone who might try to tamper with the site. Rigby, in fact, had received permission to dig on the site from the Waltons, who told him they owned the property, as well as from the Fish and Wildlife Service.
"Unfortunately," Tremblay said ruefully, "the people we trusted to take care of it ended up bringing in someone to start digging it up because they had visions of millions of dollars."
---
Aafter years of litigation, the auction firm Sotheby's announced plans for an auction in the fall of 1997 of one of the largest and most extensive T. rex specimens on record — "Sue," named for Sue Hendrickson, a paleontologist who found it in August 1991 in western South Dakota. Experts predicted that bids for Sue could surpass $1 million. And, in May of 1997, dinosaurs were once again a major part of popular culture with release of the second "Jurassic Park" film.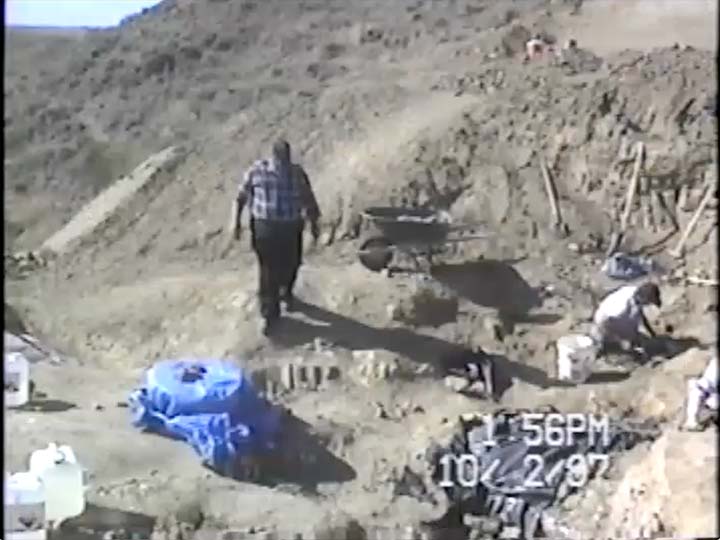 "The sale of 'Sue' caused my problems. The two cases are inextricably linked," Rigby told Science News in December 1997.
With knowledge of the going rate for a T. rex, the Waltons contacted Nate Murphy, an amateur paleontologist who lived nearby, asking him in early September to help them unearth Rigby's rex. In the March 1998 issue of the magazine Smithsonian, Fred Walton reportedly said to Murphy: "Well, Nate, if we don't get one of you guys to come along, we're going to go up there by ourselves and rip that SOB out of the hill."
According to the Smithsonian account, Murphy was leery of working on someone else's dig, but eventually thought it best to help the Waltons in order to ensure they didn't damage the T. rex bones. However, after becoming more and more suspicious of their claim to the land and their motives, Murphy soon left the scene — but, according to Smithsonian, did not inform law enforcement of what the Waltons were up to. "I still thought it was all a matter of feuding within the Walton family," Murphy told the magazine's reporter.
That's when Glasgow, Montana, attorney Jim Rector came to the rescue.
"Keith came out here every year for many years, and even spoke to our Kiwanis Club," Rector recalled in a phone conversation. A good friend of Rigby's, Rector was one of the few people other than the participants in the dig who knew just what had been discovered — and where — that summer.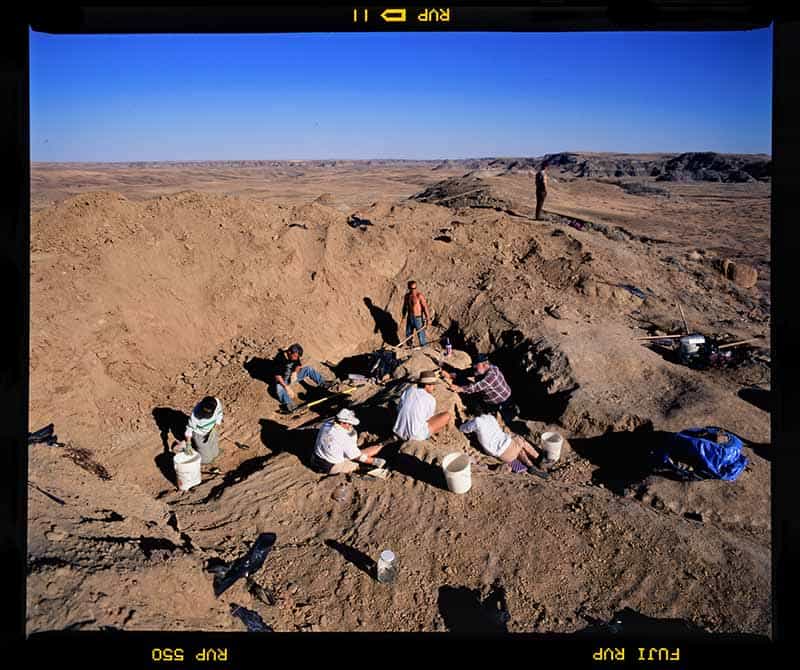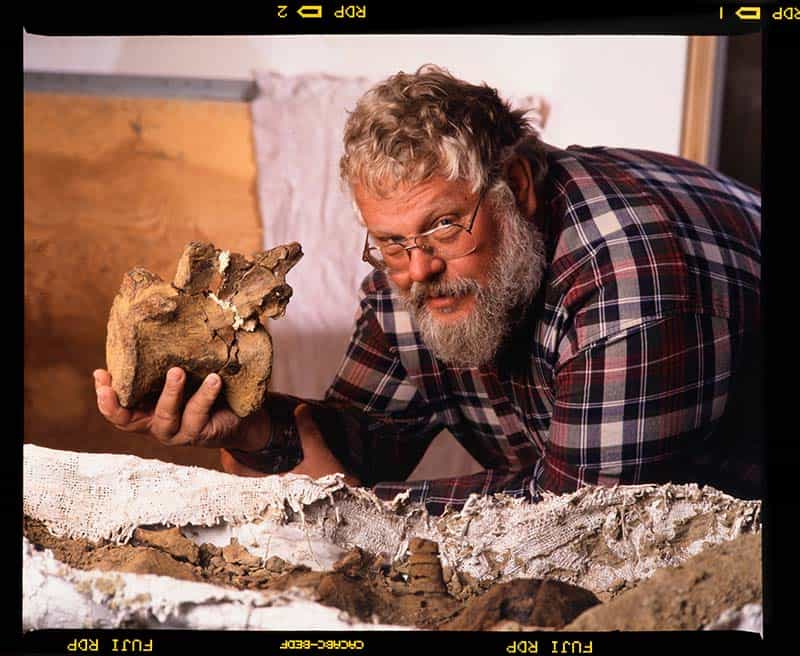 On Sept. 13, Rector and his friend Skip Erickson went fishing and, on the way home, stopped to get a beer at The Gateway bar ("Best damn bar by a dam site"). "A young lady we both knew told us all about how she had seen the dinosaur bones," Rector said. "That seemed unusual. I called Keith to let him know what was going on, and he asked us to keep an eye on things.
"I went up (to the site) the next day and Skip and I watched them (the Waltons) digging with a backhoe. They saw us and asked what we were doing, and I said, 'What are you doing.' They said that this was their land and it was their dinosaur. They had guns and were displaying them and they made veiled and not-so-veiled threats."
Rector told the reporter from Smithsonian that one of the Waltons said: "I'm gonna save my land and feed my family." Smithsonian also reported that local residents feared the situation could escalate into something akin to the Montana Freemen and Ruby Ridge standoffs; the former, about 90 miles south of Fort Peck, ended without fatalities, but the latter led to the deaths of three people, including a US marshal, in Idaho.
After Rector informed Rigby of the poachers at his dig site, the professor called the FBI. An agent and the McCone County deputy sheriff arrived not long after Rector confronted the Waltons and ordered the ranchers to vacate the premises, which they did, but not before damage had been done.
---
The confrontation on Sept. 14 between the Waltons and law enforcement garnered widespread media attention, and headline writers had a field day:
Fossil Feud
Bone of Contention
No Bones About It
A Bone to Pick
Finder, Farmer Fight over Fossil
Prehistoric Poaching
The national media accounts helped Rigby as he assembled a team to make an emergency trip to Montana to assess the situation. On Sept. 26, Rigby, joined by Notre Dame students and others who had worked with him through the years, including Lou Tremblay, arrived in Fort Peck to ascertain just what the Waltons had done to the massive fossilized dinosaur skeleton that had been found two-and- a-half months earlier.
After carefully uncovering the site, Rigby found that two-thirds of the left side of the T. rex skull was missing, as were both of the lower jaws. "This is about as bad as I could have imagined," he said in a news release issued that day by Notre Dame. "We had a virtually complete skull, and now I'm wondering what I can do to repair the damage."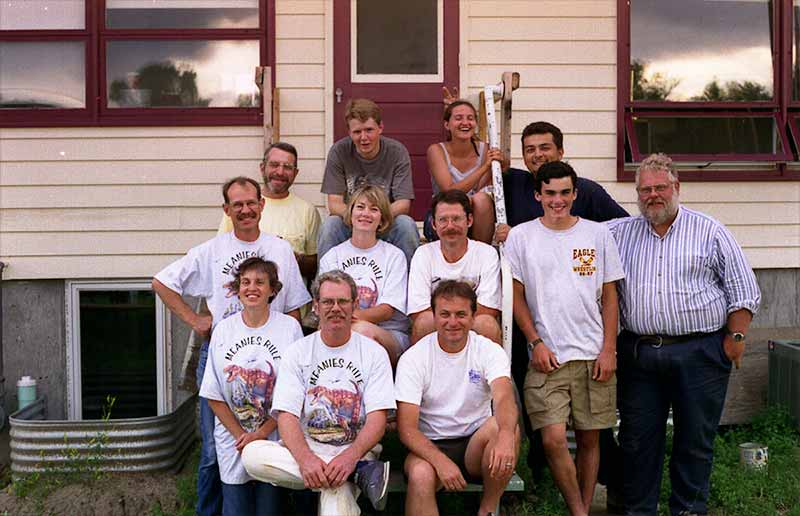 Fortunately, and unbeknownst to Rigby at the moment, the FBI in Great Falls, Montana, had taken possession of the jaws, which had been turned in by two unidentified people, according to local media reports. With knowledge that the damage wasn't as bad as originally feared, the team began an emergency excavation. They were able to do so with the permission of the Department of Agriculture, which owned the land after the Waltons foreclosed on the property. The bones were moved to a large facility that had served as a laundry for workers on the Fort Peck Dam in the 1930s.
With the help of Tremblay, Notre Dame students, other volunteers and regional experts, Rigby was able over the next couple of years to make repairs and cast and prepare the specimen for display. Funds were tight, but the Maryland Science Center stepped in to help finance the project with the proviso that it would receive a specimen for display. Tremblay attended the grand opening of the exhibit in Baltimore in 2007.
It was Rigby's desire after the discovery to have the cast of a fully mounted skeleton on display in Fort Peck. It took some time, but the Fort Peck Interpretive Center and Museum opened in 2005 under the auspices of the Corps of Engineers and is the home of a cast of Peck's Rex and a 14-foot-tall fleshed-out model, as well as other Fossils and exhibits of the region. The center is one of 14 sites on the Montana Dinosaur Trail.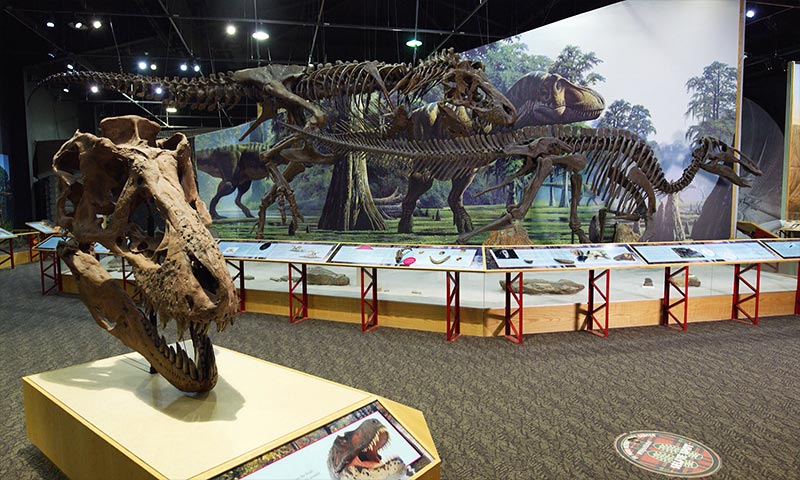 Another cast is in the Carnegie Museum of Natural History in Pittsburgh, where it is displayed in a "face-off" with another T. rex specimen.
The original bones that were unearthed by Rigby's team are mounted and exhibited at the Museum of the Rockies in Bozeman, Montana. A T. rex that was found in 1988 not far from Peck's Rex was on display in Bozeman for 20 years. It is now called Nation's Rex and is a centerpiece of the Smithsonian's National Museum of Natural History in Washington, DC
A cast of the skull is the highlight of the J. Keith Rigby Jr. Fossil Collection in the Museum of Biodiversity on the first floor of Notre Dame's Jordan Hall of Science.