When Smiley Anders and I began to discuss the logistics of our Baton Rouge Classic lunch, he first suggested Ruth's Chris Steak House.
"They have a good hamburger," he said.
Five minutes later, he changed his tune.
"Let's go to Pastime," he said. "I've been going there since 1955, and my father went there before me."
"Pastime it is," I replied.
Like Pastime Restaurant, Anders, the 84-year-old longtime Advocate columnist, is an institution.
Since I'm new to Baton Rouge, this was my first trip to Pastime. I walked through a series of rooms to find Anders looking comfortable sitting at the bar. Randy Wesley, owner of Pastime, was happy to welcome Anders back to his establishment.
"It's been a while," Wesley said.
Wesley explained that Pastime opened in 1945, just outside the one-mile, then-required no-alcohol radius of LSU's campus. He and Anders told me about when the law changed and only restaurants could sell alcohol. Pastime set up two burners for cooking and unofficially became known as "Two Burners" to meet the restaurant criteria.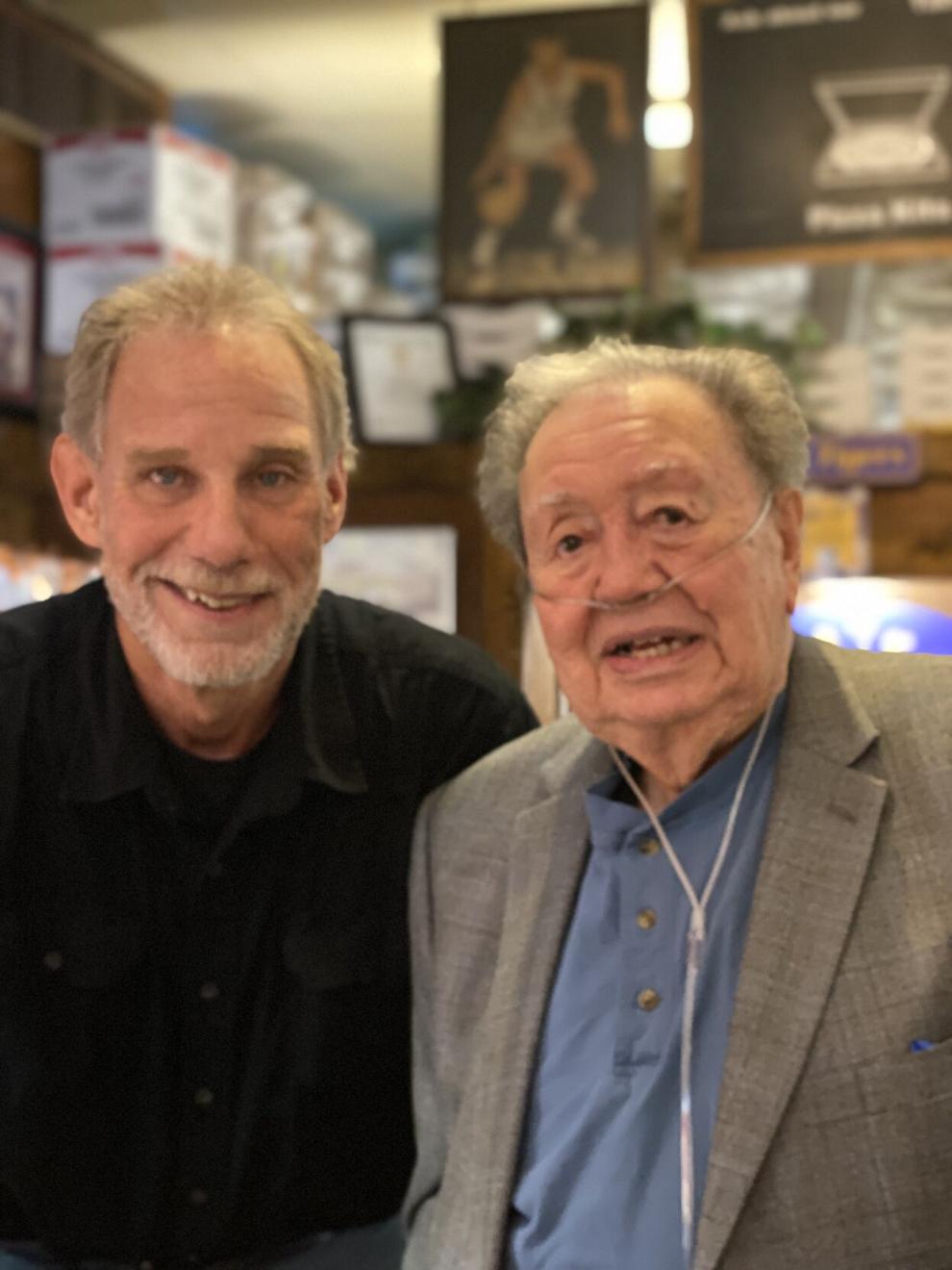 "Smiley went to high school with my dad. I've known him all my life," Wesley said.
Anders acknowledged that he doesn't get in as often as he did for what sounds like decades, based on the stories I heard — including one about hosting his and his wife Katherine's wedding reception at Pastime 24 years ago.
"Three different kinds of pizza and pitchers of beer till I tell you to stop," he said of the meticulous planning he did for the reception.
"That's the only time Dom Perignon has ever been in the building," Wesley added.
Anders and I made our way to the counter to order, as you do when you go to Pastime. He ordered a small Creole pizza and a Barq's Root Beer. On his recommendation, I ordered the roast beef po-boy and a Coke in a little bottle.
As we sat down, two women were getting up to leave. One looked at Anders and said, "I love your column. I read it every day."
He then told me an abbreviated version of his life story, starting with the fact that he is from Mississippi originally.
"We moved to Baton Rouge when I was 8," he said.
He got the writing bug when he was in the eighth grade after writing a paper about his kid brother dropping an old-fashioned washing machine top on his head.
"My teacher, Mrs. Addison, put it in the school newspaper," he said. "That was the biggest kick I ever got — turned out that was the only thing I could do. I flunked geometry."
By the time he got to LSU, according to his own self-deprecating version of things, he was in "Honors English and remedial math."
A professor assigned a book called "Newspaper Days," by HL Mencken.
"It sounded like working for a circus," Anders said.
After college, he became the editor of the Shreveport Times Oil and Gas. He said he tells people that he's worked in Louisiana all his life except for two years in Shreveport.
He then worked with the Farm Bureau for a while, traveling the state, before starting his work with The Advocate in 1973. He began writing his column three days a week in June 4, 1979. He has worked for seven different editors at The Advocate.
"It's a reader-driven column," he said. "We went to five days a week and then we started getting even more letters — and then they added Saturday."
I asked how he thought his first name, Smiley, had affected his life and perspective.
"You know, my dad was named Smiley, too. He was the youngest of nine children and they had run out of names. My grandfather had a friend whose last name was Smiley," he said. "Nobody thinks the name is real, but it is."
I did some quick math on a Pastime order notebook and figured that he's written around 11,868 columns — roughly speaking.
"God, that makes me tired," he said when I showed him the number. "I need to lie down now."
He said he would keep on writing "till they tell me to quit."
We discussed finding the right mix of topics in his column.
"I'm serious about the column," he said. "It's so easy to be cynical. It's good to find the good in people, but I try not to get Pollyanna about it. … Kathy and I laugh about getting the heartwarming right."
He says his sense of humor skews toward Monty Python and Mel Brooks but acknowledges that even with all of the funny he's written, there's been room for the serious, too.
"Everything that happens to me, I write about — the death of my dad, the death of my grandson. Writing helps give me some closure," he said.
As he told me about his grandson dying at 15, both of us had eyes brimming with tears.
Anders has two children, six grandchildren and 12 great-grandchildren.
His favorite song is Leonard Cohen's "Hallelujah." He's a big fan of music in general and spent some time reviewing concerts including Bob Dylan, Elvis Presley, Linda Ronstadt, Kris Kristofferson and The Sex Pistols.
His favorite book is "The Adventures of Huckleberry Finn," and he's currently reading Raymond Chandler's "The Long Goodbye."
He said he cooks a mean version of spaghetti and meatballs, along with mustard greens and cornbread.
By the time we finished eating, Wesley came to check on us again. The two old friends began speaking of longtime Pastime bartender, Joe Lipp (whose real name was Lippian).
"He was an amazing man — great judge of character," Wesley said. "He always had his right sleeve rolled up and his left sleeve rolled down."
We stood to leave, but the Joe Lipp stories kept coming, and Anders said, "Let me tell you one more."
.