If several years of life in Japan has you hankering for a taste of Western culture, look no further than The National Art Center in Tokyo and its exhibit of European masterpieces.
The center has 65 pieces of art on loan from the Metropolitan Museum of Art in New York until May 30. They cover the 15th through the 19th centuries, and if you need a primer on the progression of art through that period, hurry on down for a look. Many are shown in Japan for the first time, according to the exhibit program.
Familiar names abound, from Fra Angelico's "The Crucifixion," to Joshua Reynolds' "Lady Smith," right up to an early "Water Lilies" by Claude Monet.
The exhibits arranges the works in three galleries, each showing art as a means of illustrating the life of Christ and bolstering faithful devotion in sometimes cryptic forms through revolutions in style and subject, moving from the most high to the most mundane.
In the Devotion and Renaissance room, religious themes are dominant, beginning with Fran Angelico's "The Crucifixion," but some later works turn to the lives and pastimes of the upper crust.
"Selvaggia Sassetti," a circa-1487 portrait of Italian banker Francesco Sassetti's daughter by Davide Ghirlandaio, frames her soulful eyes waves within of blonde ringlets cascading along either side of her face.
Themes of devotion persist into the Absolutism and Enlightenment room, but new attention emerges on scenes of morality or allegory, such as "The Fortune Teller," by French artist Georges de La Tour, painted in the 1630s and the piece that represents the exhibit.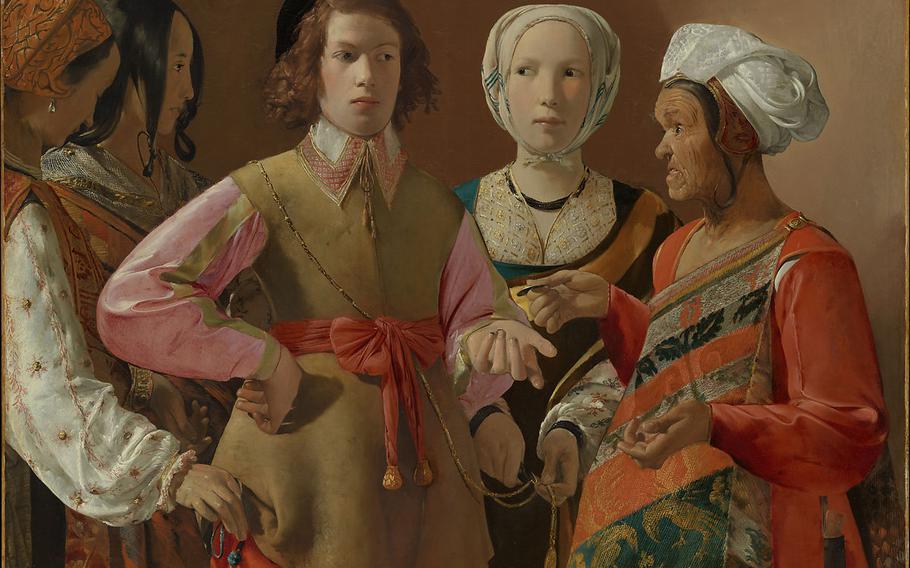 In another morality scene, "Broken Eggs," by Jean-Baptiste Greuze in 1756, a downcast young woman sits next to a basket of eggs that have spilled on the ground, symbolizing her lost virginity.
The work of a relative handful of outstanding women painters is highlighted here, including Marie Denise Viller's haunting "Marie Josephine Charlotte du Val d'Ognes," painted in 1801 and mistakenly attributed to a man, Jacques Louis David
Finally, the third gallery, Revolution and Art for the People, brings to the visitors names with whom they are probably most familiar: Auguste Renoir, Goya, Cezanne, Van Gogh and others.
One interesting work by Van Gogh, "The Flowering Orchard," was painted during his era of prolific painting in Arles, in the south of France, the period in which he sliced ​​off an ear and presented it to a cleaning girl working in a brothel near his home.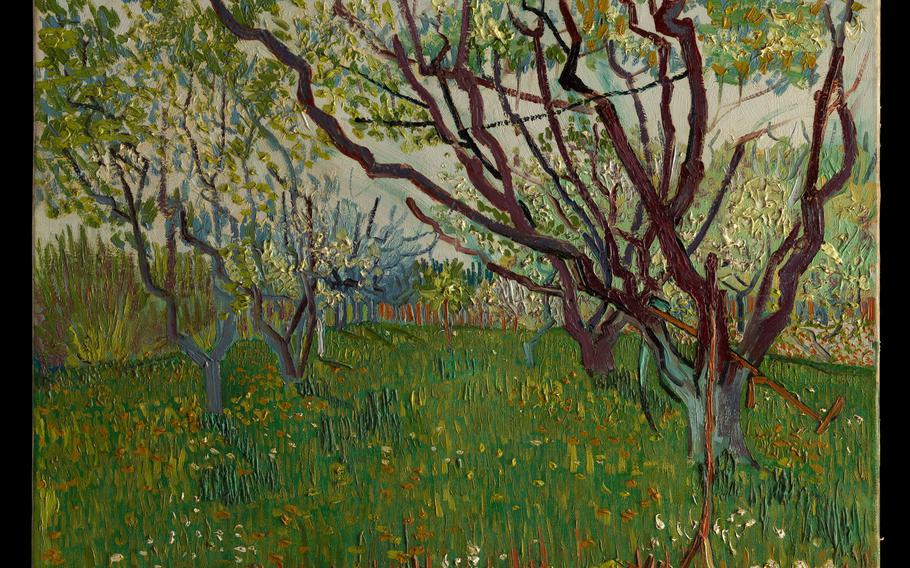 Tickets must be purchased online due to coronavirus crowd control measures. Masks are mandatory. The online ticket site can be a bear to find, but stick with it. It's worth the trip to examine up close art not seen frequently outside the Big Apple.
ON THE QT
Location: The National Art Center, 7-22-2 Roppongi, Minato-ku, Tokyo 106-8558
Directions: A short walk from Nogizaka Station on the Chiyoda Line.
Hours: 10 am to 6 pm Sunday through Thursday; open to 8 pm Friday and Saturday. Last admission is 30 minutes prior to closing.
Costs: Admission ranges from 2,100 yen for adults to 1,000 yen for high school students.
Food: A brasserie is located inside the museum. A number of options are available in nearby Roppongi.
Information: Online: met.exhn.jp