LOUISVILLE, Ky. (WDRB) – University of Louisville football coach Scott Satterfield and his staff sat around their office not too long ago as they brain-stormed plans for a recent visit of 18 recruits coming to campus, when Satterfield said he found himself thinking, "We' re going to do what?"
What Louisville did is the stuff of social media virality. A group of college football prospects heading out to a Bowman Field airplane hangar filled with private planes and luxury sports cars. Sports cars in the end zone at Cardinal Stadium. A already committed, quarterback Pierce Clarkson, taking out billboards to praise his fellow commits and hoping to attract new ones.
"You're thinking outside the box, you know, you're always trying to think, 'What's next? What's different? What can we do to entice and enhance our visit?,'" Satterfield said Thursday in an interview with WDRB. "And you know, some of the stuff, on the surface you think about it, the ideas were brought up, and you're like, 'Really? Is that going to be something we need to do?" But you just brainstorm and you start talking to young people. I've got my kids, 18, 19, 20-years old, and run that stuff by them. .' And that's really what it came down to this past weekend.
The images – posted not by U of L or its coaches or program, but by the prospects themselves – caused a bit of a stir around town when shared by The State of Louisville Twitter account. And when Rueben Owens, the nation's No. 1-ranked running back, committed to Louisville on Monday fresh off of that visit, the discussion widened.
It's a bit of a change in modern recruiting. The visit isn't just built around the experience of the players, but in how players might share that experience to impress other prospects. It's not that nobody has used sports cars in recruiting before. It's been done. But Louisville's recent success has drawn some attention.
Raise your hand if, at the end of the last football season, you had Louisville as the most intriguing story in national college football recruiting come the start of the summer.
Put them down. I don't believe you.
Yet here the Cardinals are, sparking (earlier this week) a discussion from none other than Dan Patrick on national radio, and plenty of others who follow national football recruiting, after fashioning what is starting out to be – by far – the highest-rated class in program history, currently No. 11 nationally in the estimation of 24/7 Sports.
With the ever-present college football caveat that players can and often do change commitments and that classes in June aren't always what materialize in December, Louisville's early success this year has led to some widespread curiosity.
What is happening at Louisville? What has changed? And what is Louisville doing that others aren't? How do you go from zero to Top 15 in a span of a few months?
To get Satterfield's answer that question, I spent some time with him on Thursday talking about Louisville recruiting.
THE IMPACT OF NIL MONEY
The first place most people will point is Name, Image and Likeness. And certainly, Louisville is making the most of those opportunities. A collective, 502 Circle, has been formed to support the program's efforts with NIL money.
But that makes Louisville just one of hundreds. Everybody has NIL money. In fact, most would tell you that NIL has made the national recruiting landscape even more competitive, not less. To argue that Louisville has some kind of advantage over the traditional football powers is not necessarily a credible argument.
"We're playing all by the same rules now," Satterfield said. "There's opportunities at a lot of schools. I mean, you think about some of these blue bloods that's had great recruiting and great players over the years, and had a lot of money surrounding their programs and a lot of donors that want to help their programs. So now with NIL I think it's a level playing field throughout the country. And you know, that's certainly part of it."
But it's not the only part of it. There is, as they say, always someone with more money. Louisville isn't making financial offers that can't be topped.
Louisville undoubtedly is benefiting from its NIL efforts and from being a top Adidas school. But Satterfield points to a couple of other factors in the rising momentum.
PLAYERS RECRUITING PLAYERS
Sometimes, you're just fortunate to land a player who seems to attract other players. And for Louisville, Clarkson would appear to be that kind of player. Two of his teammates from St. John Bosco in Bellflower, Calif., also have committed, as did Inglewood, Calif., tight end Jamari Johnson and Los Alamitos wide receiver DeAndre Moore.
Because they haven't signed national letters of intent, Satterfield can't talk about any recruits who have committed. But he can talk about the momentum his program has built.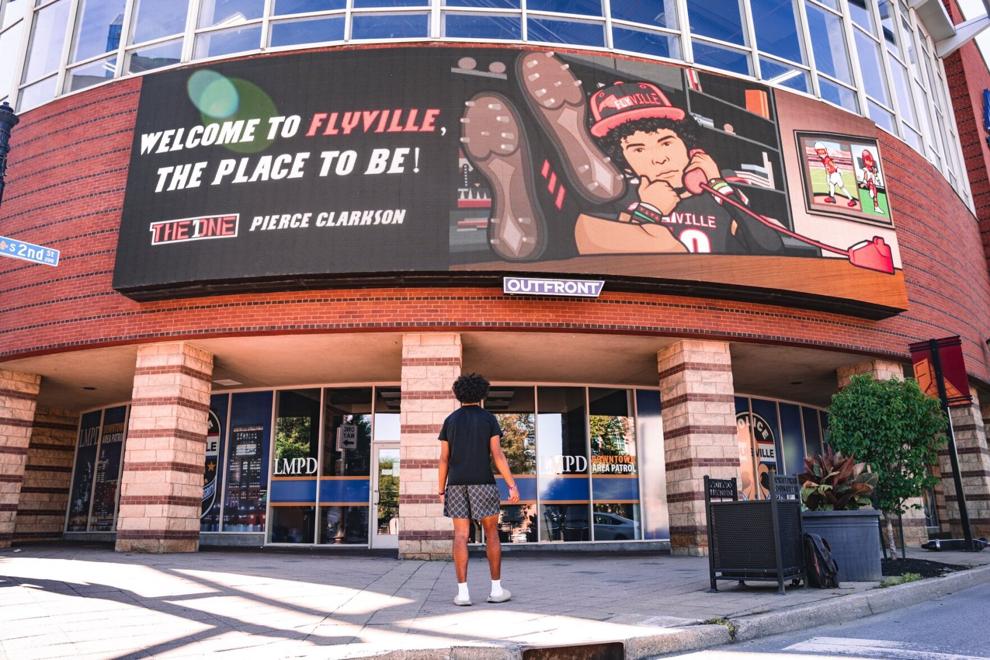 "We're talking about the '23 class that's going to sign in December — you've got to recruit these guys, year and a half, two years in advance," Satterfield said. "And I just think we started that with several of these key recruits, and built a great relationship with those recruits, and they've been on campus many times. And I think the more they come back, obviously, the more interest there is , and then they start selling the program. And I think all that just kind of snowballed. You've got to get some key ones that are some high-profile guys that like to help recruit, and then all of a sudden you've started to put together great class."
With these players, the communication is frequent and occurs in the world of Instagram, Snapchat and TikTok and other places most coaches are leery about venturing into. Yet you have to be there if you want to stay relevant.
"There's a reason why some of these social media platforms are some of the most popular in the world," Satterfield said. "When you think about Instagram and Snap and TikTok, some of these other things, and these young people, that's the world they're living in. And we were just trying to create a great opportunity, once they're on campus, to interact with each other and interact with local football and things that are surrounding our program, in a way that young people can relate to.
"… We're in a world now where everybody's close. And the young people now more than ever, they live through their phones. There's not as much face-to-face communication for young people. They can be in the same room and just text each other, and that's the way they communicate. So now, it doesn't matter if you're in Florida or California, Kentucky, you still feel connected, I think more so than ever. particular class this year. In comparison, you can go back to the class when Teddy Bridgewater committed (in 2010), right? one that jumps in, that obviously helps. Like with Teddy and maybe in our situation this time, that's kind of what's happening. It's kind of a parallel. Hopefully it'll translate to the success that they had back then."
OUR 'FIRST LEGIT CLASS'
Satterfield also pointed to a couple of other factors that have made a difference. First is the expansion of the recruiting infrastructure in the program. The program was kept from making some of the specialized hires it wanted to make during COVID, but now is up to 6 people who work on recruiting full-time. That's all they do. They follow prospects, know what is going on with their social media, coordinate outreach efforts, think about things to do with them and their parents when they visit, follow the transfer portal, help craft the coaches' recruiting schedules and activities. In 2020, that staff was 2 people.
"That's been a huge factor for us," Satterfield said. "And as we move forward, we're hoping to continue to build out an even bigger recruiting department. As you think about the transfer portal, high school players, and then also your own players, you're basically recruiting three different types of avenues all the time. So you have to have a lot of personnel."
And along those lines, Satterfield says he and his staff have benefited from a regular recruiting cycle – probably for the first time in his tenure at Louisville. His first class – like all first-year coaches – was hastily put together. His second class was still an adjustment to the ACC level. His next two classes were short-circuited to various degrees by COVID, though this 2023 class is the first he said that he's had a full year-and-half to 2 years to build relationships in ways other than just zoom or on the fly.
"I truly believe this is our first legit class," Satterfield said. "Like it or not it's the reality . . . everything we've done has had to be done virtually in the last two years, which has made it extremely difficult to have face-to-face contact, whether it is at their high school or here. campus several times. You can't see someone's demeanor and how they're reacting in side conversations through a Zoom call. You have to be in the same room for a period of time. class, which is crazy."
And it could be crazy good, if it holds up. And Satterfield says it could be better, as other prospects react to who already has committed. He says he's had players he'd recruited who had dropped the school now call and look to get back in line for a visit. And he's had others inquire. It's a good situation to be in.
"We're having to be very selective now," he said. "There's a lot of people that want to come check us out, which is a great thing for us. And, you know, we're obviously looking for the best talent in the country, and I'm trying to bring them here to get championships."
It's definitely a different outlook than existed even several months ago.
"We're selling the fact that they have an opportunity to come in here make a huge impact," Satterfield said. "Come to a city that has over a million people. We don't have a pro team here. The Louisville Cardinals are the team. You're going to have a great fan base that's going to know your name, that's going to know you as a player, and a chance to get on the field and play at an early age. And I think that is appealing to a lot of these players. They know they can come in here and have a huge impact, win national awards, all those things. And that's what we're selling. And I think that is resonating."
Copyright 2022 WDRB Media. All Rights Reserved.
.