You may have thought you caught all the action at the 2022 MTV Video Music Awards watching the red carpet coverage and ceremony play out on TV on Aug. 28, but POPSUGAR was actually there, experiencing everything first-hand. Before Lizzo made her rousing speech calling out her haters or Fergie crashed Jack Harlow's "First Class" performance, all of the night's biggest celebs hit the red carpet (or black carpet, if we want to get technical) to show off their designer outfits and chat with the 70+ outlets that packed into the press line for the first full-blown VMAs since the pandemic derailed the 2020 show. Let's break down everything that happened behind the scenes.
Most of the night's biggest acts — from Lizzo and Jack Harlow to LL Cool J and surprise-attendee Taylor Swift — skipped walking the press line and instead ducked straight into the venue after taking pictures, which sent reporters jumping over dozens of camera cables and bolting to the closest sidewalk to snap a photo from a distance as they entered the Prudential Center. Peep my low-quality picture of Lizzo's gorgeous black gown billowing in the wind.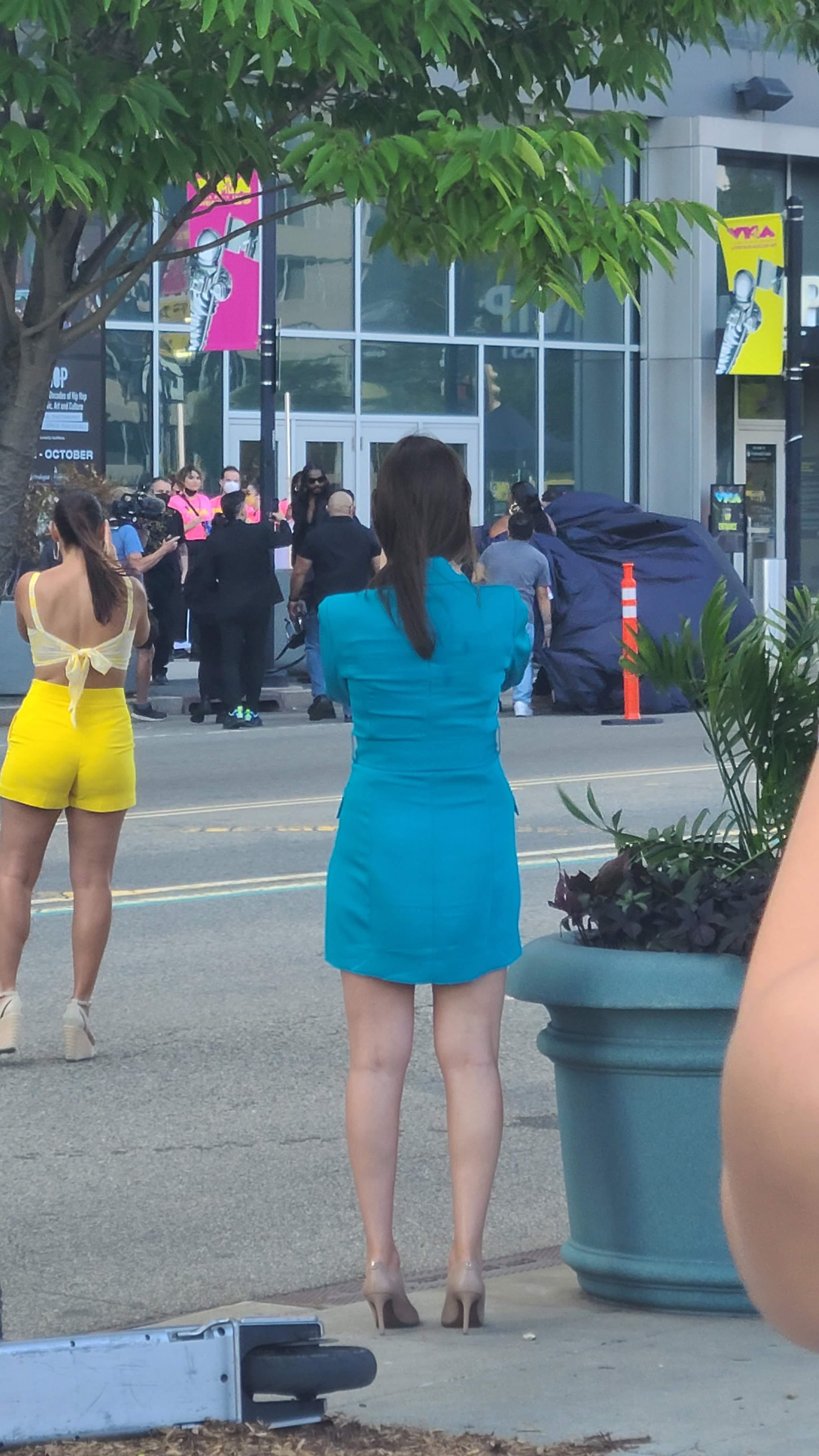 Soon enough, barricades were put in place behind the press line because, as one staffer was overheard saying, "We're not having that again." Fair enough.
"Wild 'N Out"'s Justina Valentine spent her time on the carpet doling out freestyle verses to each outlet on site. When it came to POPSUGAR, inspiration struck as soon as she saw the "PS" logo on our social content producer Kim Pham's mic. "Ooooh, POPSUGAR, I f*ck with y'all!! POPSUGAR, you know y'all dope, but when we are talking 'bout 'PS,' it means p*ssy soaked!" She'll no doubt be showing off those decidedly explicit freestyle skills on the set of the next season of the improv comedy show, which she shared she'd be catching a 5 am flight to go film the next morning.
Throughout the night, POPSUGAR celebs filled in on the biggest pinch-me moments of their careers. For Murda Beatz, it was "2019, performing at Coachella and bringing out DMX." For Nicky Youre, whose song "Sunroof" was nominated for song of the summer, it was "being able to hang out with other artists that I've looked up to for a bunch of years now . . . especially when they're like 'I like your stuff.'" Betty Who "got to sing for President Barack Obama at an event for the DNC," which she described as, "Woah, pretty crazy." And to Blackbear, "Working with Avril [Lavigne on our song 'Love It When You Hate Me'] — she's an icon — and just being here representing her is a pinch-me moment in itself. . . She's amazing."
As for Johnny Orlando, it seemed like his pinch-me moment was meeting Blackbear on the VMAs red carpet. He nervously approached the veteran singer-songwriter to introduce himself, and Blackbear seemed more than happy to chat with the star-struck "Blur" singer.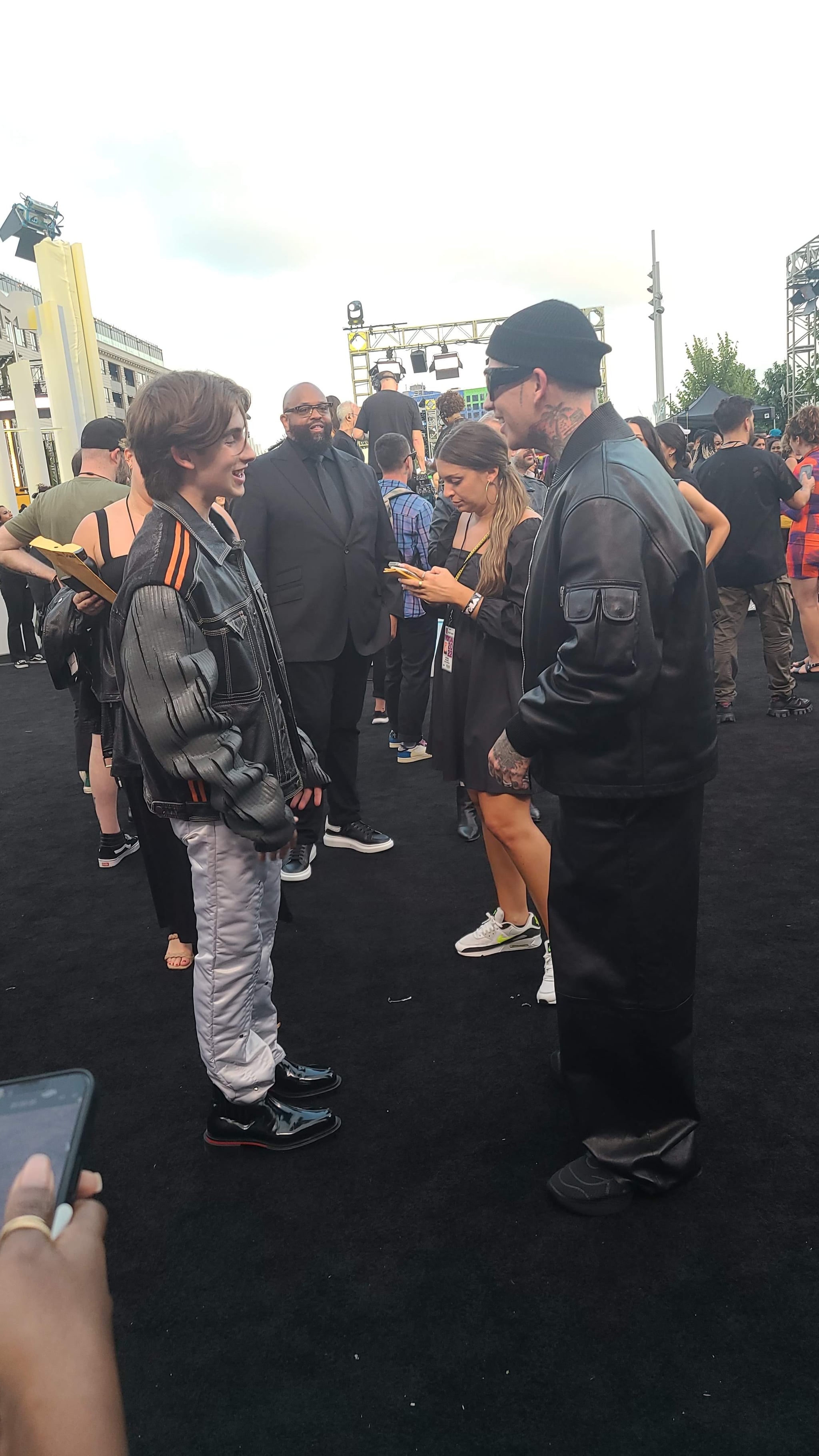 POPSUGAR also caught Addison Rae's mom Sheri Easterling dropping a love bomb to her date, rapper Yung Gravy, the first of many PDA moments between the pair on Sunday night.
As the red carpet drew to a close, a handful of stars practically jogged to the end of the carpet to make it into the venue in time for the ceremony. There goes Snoop Dog! There goes Dixie D'Amelio! Dove Cameron and Sabrina Carpenter elicited some of the loudest screams as they waved to onlookers in passing, and the iconic Cheech and Chong looked as chummy as ever over five decades into their comedy career together (which was seriously wholesome). Lil Nas X desperately held onto his massive headdress as he attempted to squeeze through the throngs of fellow celebs and PR reps on the carpet (he managed to make it inside, headdress intact).
The 2022 VMAs were a welcome return to award-show normalcy after so many ceremonies were dampened by the pandemic and, surely, the show will only get bigger from here!
Image Source: Getty / Cindy Ord / WireImage